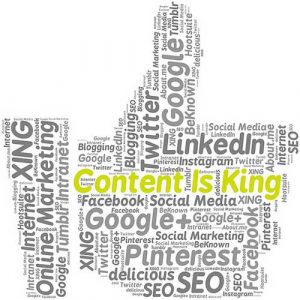 The key Content Marketing lies in the added value you provide to your clients. The value must be real; it is important always to offer them the best and most useful, unique content.
So what is content marketing? The process by which we create and distribute content to attract and convert our target audience.
Know your current status
Define you goals
Know your target audience
What content types are best suited
Mind map your campaigns
How to distribute your content
Analyse and adjust campaigns
"Content marketing can be defined as the creation and distribution of meaningful insights, perspectives, and best practices that are valuable to a particular audience. The aim is to retain existing clients including doing more business with them and to attract new high-quality clients." (Source: Bruce Rogers, Chief Insight Officer, Forbes)
Content marketing is impossible without a good strategy so we are going to explain the steps necessary to design your plan with a series of simple questions that you should ask yourself to reap the most benefit.
Content marketing has four basic goals, a funnel:
Get found – Attract visitors to your website or blog.
Conversion – Convert your traffic to leads.
Sale – Turn your leads into paying customers.
Loyalty – Get your current clients, potential customers or just visitors to your website to speak well of your brand, your products or services.
SEO: The foundation of content marketing
Before we get into the content types, we want to briefly emphasise the importance of SEO in any content marketing strategy. SEO is the foundation upon which any internet activity aimed at generating traffic to your website are based. All content, not just your site content, should be optimised for search engine positioning. Choose your keywords or general idea well and optimise for it.
Social profiles should also be optimised. The 'about us' of any profile or web property should have the business information and contain the keywords which are ideal to position your business.
Content marketing. Ten content types to generate visitors and customers online
Blogging – It is a powerful tool, much stronger than just a website, to your target customers and attracts them to your web page, where you can "sell" your products & services. Steady posting of articles that revolve around a particular need, issue or questions your customers may have about the product or industry is essential. Such things as word count and proper HTML markup of your articles can make or break its effectiveness.
eBooks – Write an eBook with outstanding content for your customers, something you know by your professional experience that others do not offer. A short and concise eBook centered around a basic idea or issue is vital. Written well, clear and useful augments its value. Visibly include it on your website or blog for visitors to download and promote it through any email lists or Social Profiles.
Newsletter – The Newsletter is the ideal method to complement your blog, videos and informational graphics (infographics). It will place your content in front of visitors who are loyal and can be used to promote new products or make special offers to existing customers.
Videos – Well optimised for keywords, videos are positioned even better than a blog Many contents fit nicely into a video:
Customer Testimonials.
Video tutorials / How to videos.
Video interviews with industry leaders and influencers.
A video showcasing your company from an insider's perspective.
Animated videos to highlight the competitive advantage of your product or service.
Pre-launch product details.
Infographics – Informational Graphics are a type of content appreciated by the general public. In a computer graphics format, you can bring visually appealing content that has "substance".
PDF's – PDF's are a very distributable content type that can be optimised for keywords. There are a variety of 3rd party sites in where this kind of content will be shared.
PowerPoint Like Presentations – Any PowerPoint presentation or similar materials can be shared and uploaded to many different websites. Some of these like Slideshare can offer data from people downloading your presentations that can be used to target a larger audience.
Webinars – Can provide valuable content to people who are already fans of your product or service. As these can be recorded and made available, it provides long-term exposure to potential customers. It builds confidence, credibility, two desirable attributes to close the sale.
Other Products – Bonus offers, coupons, industry reports, base customer surveys can also be fascinating to your potential customers and target audience.
Podcast – Another great medium is podcasts, a free audio file that can be downloaded and played on a computer or MP3 player. It is offering new content of interest to your target audience on a shoestring budget.
It is important to go beyond the material options described above or any other options implemented by your current competitors. As the number of companies investing in content continues to grow, it will become harder for your business to stand out from the crowd.
Understanding how we can leverage all types of content for your target audience gives us a unique advantage over our competitors. The key to meet your future challenges and strategies, defining what steps should be implemented to deliver value to your audience will be achieved by designing a range of content and formats to grow your business and sales opportunities.